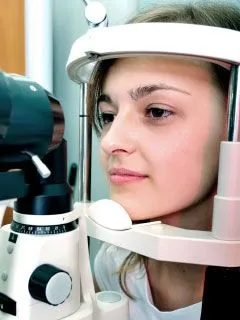 At Lora L. Durst, O.D., L.L.C, we strive to provide comprehensive, primary eye care for the whole family. Preventative and routine eye exams are important to maintaining good eye health. Often, eye and vision problems do not have obvious symptoms or signs, but are easily diagnosed by a licensed optometrist. By diagnosing eye and vision conditions early on, our optometrist is able provide treatment options and in many cases restore or prevent vision loss. The American Optometric Association recommends yearly or bi-yearly eye and vision exams, depending on whether you are at-risk or not.
A complete eye examination will not only evaluate your vision, but can also identify potential eye diseases and problems. Your complete eye exam will include the following:
Measurement of your visual acuity and refraction to determine your prescription and the degree of nearsightedness, farsightedness, or astigmatism that you may have. The computerized auto-refractor is a high-tech instrument that aids in determining your prescription.
Measurement of eye muscle balance to assess the movement of your eyes in different directions.
Binocular vision skills and accommodation are assessed to determine how your eyes work as a team and how well they focus from far to close up vision.
Your depth perception and color vision may be measured.
Your external eye health is examined through a slit lamp biomicroscope. This test can help identify cataracts.
The corneal curvature is measured with a keratometer. This helps determine the degree of astigmatism that you have as well as aids in the proper fitting of contact lenses.
A visual field assessment measures your peripheral vision. This test may help detect neurological disorders and other eye diseases.
An eye pressure test will evaluate your intraocular pressure. High pressure in the eye can be a sign of glaucoma.
Internal eye health is assessed through the use of an ophthalmoscope. The doctor may dilate your eyes to more thoroughly examine the retina and optic nerve.
You will receive an extensive consultation with the doctor at the conclusion of your exam. She or he will present the findings and treatment options.
To schedule an appointment, please call the office at (785) 266-5544, or email us and we will call you to set up an appointment.